What Have I Got Myself Into, or Engine Repair 101
I don't know what possessed me to do it. Maybe it was the liquor speaking....

...but right now I've got a 1994 Plymouth Acclaim parked in my garage, the engine in pieces.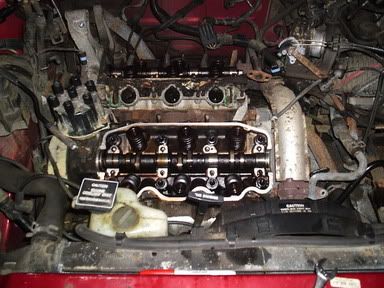 Removing the valve covers and intake manifold...
I'm not a mechanic...I don't ever pretend to be one. When I turned 18, I received a 36 piece tool set for my birthday, which hadn't been opened until this week...I've never changed my own oil, or ever had to change a tire...I leave that to the professionals. So, how did I get myself into this situation?....well, it started like this...
Last summer, a friend of mine was selling his car...he was moving, and didn't need it, as he had recently bought a new one. I offered to buy it, as it was dirt cheap...plus, I was having some
repairs done to my vehicle
, and as it turned out, buying his car was cheaper than renting one for the week.
When the repairs were done, I continued to drive this vehicle, because it was, in my opinion, a pretty decent car for having nearly 200k miles on it....the engine seemed sound, and there wasn't any serious body damage, outside of the occasional ding, or dent, but nothing that would indicate that said car was over 10 years old....
When a friend of mine returned from the reserves this fall, she was looking for a car to buy....so, reluctantly, I decided to sell. She was a single parent who didn't have transportation, and I felt that she needed transportation more than I needed to have a spare car...I made a deal, and she drove off, happy.
Unfortunately, within about 6 weeks of owning the car, it blew a head gasket....the car sat outside in subzero temperatures for about a month before it found it's way back to my garage.
Guiltily, I offered to help fix the vehicle....so, we went out and bought a rebuild kit from Carquest, a couple of jackstands and a Chilton's book on engine repair....
Now the car is jacked up in my rental garage...the engine is resting on a couple of phone books...we finally made it down to the cylinder heads after two days of pulling, pushing and grunting...I now look at the mess in my garage and wonder if:
#1. Will we be able to identify and return all the parts, nuts, screws and bolts back to their proper location?
and...
#2. Will the vehicle actually start up and run when were finished?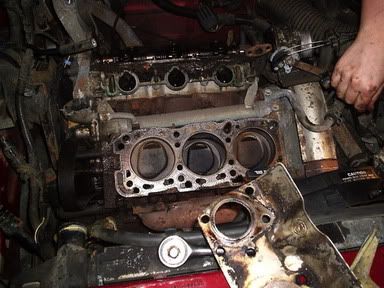 Reaching the cylinder heads...
So far only 1 1/2 cases of beer have been consumed in the process....