A little weary, save the wear and tear...
So, I made it back.

It was a precarious journey, to say the least. First and foremost I should add that it started out as me against the machine...the "check engine" light was on for the duration of the trip. Fortunately, nothing came of it...and the vehicle appears to be running smoother than ever...

The details of the trip down to Chicago are fairly bland, so I'll pick up when we arrived in "Chi-town"...

My brother-in-law and I headed out for some last minute shopping...mostly stuff that was forgotten during the packing process....along the way we stopped into a local bar....Buffalo Wild Wings...

I'll add that we have Buffalo Wild Wings here in the Twin Cities. I will also add that this is the best idea I've ever heard of for a franchised bar....the concept is brilliant: marrying hot wings with...get this...beer!...Everyone knows that nothing goes better with hot wings than beer (unless you're visiting the Otter Supper Club, you might like to order the Lynchburg Lemonade with your order of wings). The bro-in-law and I talked about beer, sports, politics and the holidays. Autumn, our waitress and aspiring speech therapist at the local college, gave me a few pointers with helping my son correct some speech impediments. Yeah.

After we returned to the residence, I'm sorry to say, I actually passed out. Yep. It's both true and disappointing at the same time, but, in my defense, I was working on less than 3 hours of sleep in a twenty-four hour period, and lack of sleep with an alcohol mixer had taken it's toll. I will mention that I was able to recover later in the evening long enough to eat several Taco Bell soft tacos, and drink plenty of water in order to prepare myself for the next days drinkin'.

An hour after I woke up the following morning, I had helped myself to a Crown Royal and Coke. I know I've mentioned it before, but I think it needs to be said again, there is nothing better than an early morning buzz. The afternoon pretty much consisted of heaving drinking, and some game playing...I rode "the wave" well into the evening, and then into the early morning hours. I actually drew a diagram of what "ridin' the wave" looks like, and my position on the wave at that particular moment (indicated by the arrow) for my sister-in-law. I nearly ended up on the wrong side of the wave after the Vikings loss, but I recovered gracefully. (see figure 1)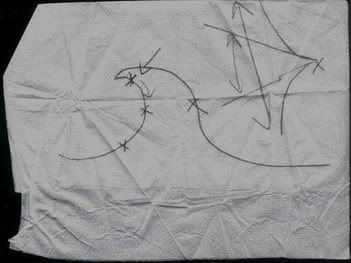 Figure 1

We continued on past midnight, until we eventually had to call it quits. I had put in a serious days worth of drinking.

The final full day of the visit was a bit dryer than the previous day....I woke up, quite dismayed to find out that all of the liquor had been consumed. I had brought the Crown Royal...and a bottle of Windsor. I know the in-laws had a bottle of Canadian Club and a case of Miller Lite...all of it gone. So, as a consequence, I got a late start to by alcohol buzz....it wasn't until two in the afternoon until someone felt well enough to drive the nearly 5 blocks to the corner liquor store in order to restock. I managed to maintain my composure during the temporary dry spell by playing "Test Drive" on the XBox...I'm not too keen on playing video games, unless they involve driving....I actually liked "Test Drive", however, I was disappointed that my car didn't get any dents, or lose tires, or go all haywire whenever I crashed, nor did it take me to a liquor store or bar. I've always thought that driving games should be more realistic in that manner....

When the liquor finally arrived, I commenced drinking before the bottle could even be taken out of the bag. After "getting my fade on" I yanked out the turkey fryer, and fried up a turkey, and a couple of potatoes (something I wouldn't recommend to amateur drinkers)....Much of the rest of this afternoon/evening was the same as the day before, except that we were invited to a neighbors house to hang. The neighbor is a drummer in a band, so he had "the works" set up in the basement to make some noise.

So, we enjoyed the music for a few hours, running back and forth between the houses to get refills. The owner of the drumset could see I was chomping at the bit to beat the skins, so, he turned the drums over to me, and I cranked out side one of Nirvana's Nevermind ....not such an easy task, and I'm sure that, considering drunken state of all present, the mistakes were overlooked. (see figure 2)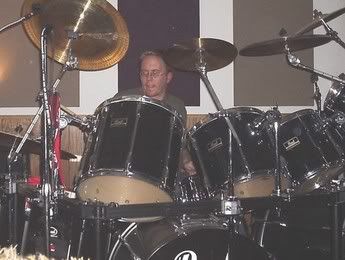 Figure 2

When we returned home long after midnight, I retired to playing the XBox again. My goal was to finish the game I had worked on earlier in the afternoon, but playing a driving game when drunk is like, well, one can imagine. I didn't get very far, and eventually I gave up.

The next morning consisted of getting packed up, eating a greasy, greasy drunk and hungry breakfast, and staring the "check engine" light again.

The best part of this story is the end, when we get home, unload the kids, and I head out to my beer fridge and open up a Shells' Caramel Boch and sink into the easy chair and start the recuperative process.


If my blog seems kinda 'effed up, I'm working on it...I don't know what happened....