Iced Tea
Yeah....so Thursday marked yet another birthday for me. I'm sure all my millions of readers will be thrilled to know I made it back from the "other side" relatively unscathed.
I have to give a shout out to my bartender for making what had to have been the most potent Long Island Iced Tea I've ever had (that I didn't make myself).
I am also pleased to report that I now have added yet another guitar to my "collection". A gem of a find, I managed to only pay $75 for it, finding it in an out of the way pawn shop, but it is now my favorite of all of them (7 in all). It is a Acoustic/Electric mohogany beauty...
a Taylor knockoff
...exactly what I was looking for, in excellent condition, not a scratch on it....I'm now one step closer to playing live shows again (I've been scheduled to start playing next spring...woohoo!)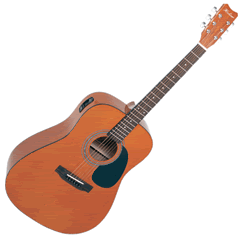 That's my new baby...