First Avenue
I've been so broken hearted since First Avenue closed it's doors three weeks ago...home to so many legends...a great big scab in the heart of Minneapolis. The last live show I saw there was The Phones reunion show a little less than a year ago....before that it was Camper Van Beethoven .

I'd always had some sort of hope that even I would get the chance to, at the very least, stand on the same stage Prince stood on all the way back in ancient history...but all my hopes were dashed when the owner filed for bankruptcy.

Then, today, like some sort of sign from the mother ship, or a case of Hornitos falling from the sky, this story was on the front page of the Tribune:


First Avenue gets OK to reopen Friday
November 18, 2004

Some minor fire-code issues have to be resolved, but otherwise First Avenue's new operators -- the nightclub's former managers -- have been given a green light to reopen as planned Friday night, Minneapolis licensing inspector Ken Ziegler said Wednesday.


The club's first show back in business following a 2½-week hiatus and ownership change will be costumed metal band Gwar on Friday, followed by the usual late-night dance/DJ programming.


Marketing director LeeAnn Weimar, who is among the former employees being rehired at the club, said, "Bear with us. We've been through a lot and are still working like mad."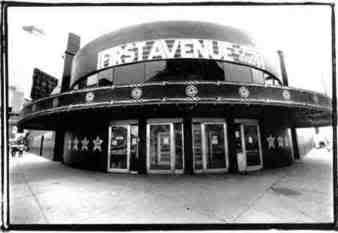 Viva la First Avenue!!