Give it up...
I'm thinking of giving up this whole "blog" lifestyle...it's highly overrated, in my opinion.

Plus, I can hardly keep up with all the updates....aaand I spend so much time reading everyone else's blog, my life seems rather mundane, because, well it is.

I figure, if I spent half as much time drinking, as I do thinking about whatever boring bit of my life I can broadcast out to the world via the "internet", I could remain just drunk enough not to care anymore....riding that buzz would become my life's work.

Today is Halloween. This is the best pumpkin ever: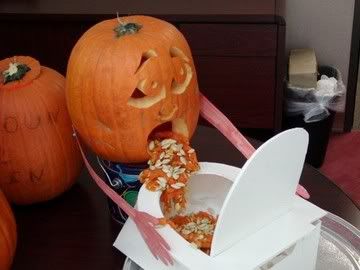 ****Side note****

Kate, someday I'll tell you all about my trip to grandma's....I'll tell you this much now, there was beer involved....